Race to the South Pole
an intoxicating case study on change management lessons from 3 explorers
---
---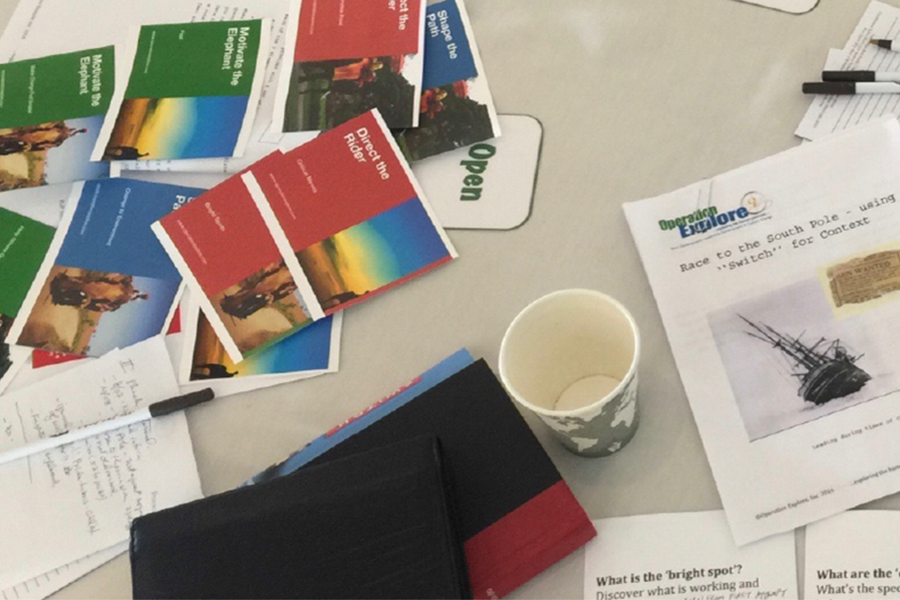 Activating Change Management
There is no better way to learn the concepts of change management than through the use of 'the race to the south pole' and "SWITCH" by Dan & Chip Heath.
At Operation Explore, we have been using the epic story of "the Race to the South Pole" for over a decade. It is such a compelling story that our clients really love. This year we have stepped it up a notch and designed it around change management using: "Switch - how to change things when things are hard". This is one of our most dog eared books on change management. We worked with one of our colleagues, Roger Woodgate, from England (a talented learning architect). We have created a card set and application of Switch Concepts that are very accessible. Participants walk out of the session with a new toolkit and perspective on managing change as well as the application of the tools for themselves in the workplace.
Learning from Exploration of the South Pole ... an unforgiving, constantly changing land ...
Basic Agenda:
Introduction to Switch Concepts/Tools
Video Case Study of the Race to the South Pole
Application of Switch Toolkit to the Video Case
Study
Application of Switch Toolkit to Workplace
"Every day some new fact comes to light -
some new obstacle which threatens the gravest obstruction.
I suppose this is the reason which makes the game so well worth playing."
-Robert Falcon Scott
"Adventure is just bad planning"
-Roald Amundsen
"Difficulties are just things to overcome, after all."
-Ernest Shackleton
---
About Operation Explore, Inc
Experiential Organizational Development - Changing organizations one interaction at a time.
Culture | Strategy | Structure


We help companies reach their potential, resulting in high performing workplaces. Using innovative learning processes, OE will inspire your leaders, energize your employees and invigorate your company. Our method of curating the right learning tools and processes result in organizational transformation for companies worldwide. Our focus is on the development of Culture, Strategy & Structure. Your organizational development journey starts here.