Apollo 13, Half a Century Later: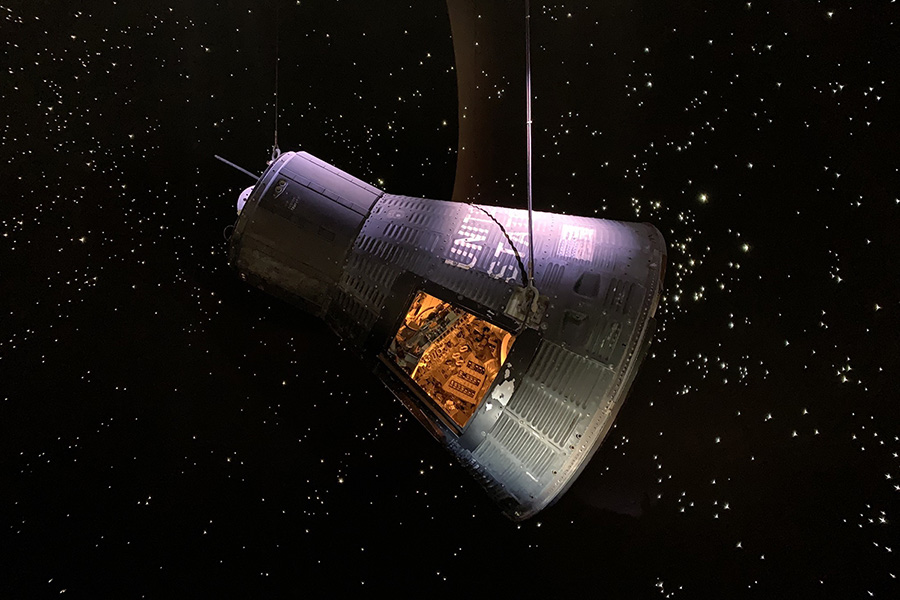 Photo from Operation Explore, Inc. - Space Center Houston - January 2020
I have always been fascinated by the Apollo Space Missions, and find Apollo 13 to be especially compelling. The story of this mission is truly one of the most remarkable and renowned tales in human history. An incredible example of the power of teamwork and retaining hope even while facing impossible odds, there is much that can be learned from Apollo 13. April 17th marks 50 years since the mission returned safely to Earth, and the timing couldn't possibly be more pertinent.
On April 13, 1970, the world was transfixed when an explosion on board forced the three astronauts to move to the landing module and instantly abandon their long-awaited goal of landing on the moon for a terrifying effort to make it back to Earth alive. Mission Control in Houston rapidly formulated plans for the astronauts, using materials they knew the crew would have available to them. As they successfully helped the crew achieve a solution that miraculously returned them to Earth, they proved to everyone just how powerful human innovation and collaboration can be.
Earlier this year, I was able to visit the Houston Mission Control Center with a client executive team, for one of our Quarterly Strategy Meetings. What an amazing place! We were very fortunate to have Rod Pyle—acclaimed space historian, journalist, and author—there with us for the tour. Reflecting on this experience now, it seems that many aspects of Apollo 13 are applicable to the COVID-19 pandemic. The astronauts and Mission Control had to immediately adapt to an extremely challenging and unexpected new reality, forced to be quick and decisive. The severity of the situation left everyone involved fully aware that their decision would be life or death for the three astronauts, which is certainly comparable to the coronavirus: any decisions made about the pandemic now could cost the lives of millions of humans, especially now that we have seen just how deadly this disease can be. Instead of abandoning hope or allowing ourselves to feel defeated, we must learn from the Apollo 13 mission and keep the following lessons in mind.
3 Leadership Lessons from Apollo 13:
Calm - during the potential time for panic. When facing a significant challenge, it is best managed by remaining as calm and focused as possible. The "Keep Calm and Carry On" slogan used as a PR campaign in England during WWII truly is a resonant one, and a reminder not to let uncertain times get the best of us.
Planning - NASA is highly regarded for the planning that it puts into every mission. It was this planning and scenario simulations that made all of the difference in saving the crew of Apollo 13. I think it is captured best by Dwight D. Eisenhower, when he was Allied Supreme Commander for D-Day: "Plans are worthless, but planning is everything." Spend time planning, even during times of crisis, in order to build muscle memory.
Clarity from Complexity - clarity was created when Mission Control asked, how can we help you? Clarity was created when "the Apollo 13 Moment" was tackled on Earth, while the crew on Apollo 13 was grappling with their circumstances. A team was able to solve the CO2 Scrubber challenge by utilizing hoses from spacesuits, tube socks, and duct tape!
Keep these lessons in the forefront of your mind in everything you do during this complicated time. Human ingenuity is more essential than ever during this global crisis. There are a great many immersive resources that paint a picture for what things were really like for the Apollo 13 crew and Mission Control. Check out this program that allows you to experience the Mission feed from 50 years ago: https://apolloinrealtime.org/13/ And these enhanced images taken aboard the actual Apollo 13 spacecraft:https://www.bbc.com/news/science-environment-52264743
By Jeff Boyd, Operation Explore, Inc.
---
About Operation Explore, Inc
Experiential Organizational Development - Changing organizations one interaction at a time.
Culture | Strategy | Structure


We help companies reach their potential, resulting in high performing workplaces. Using innovative learning processes, OE will inspire your leaders, energize your employees and invigorate your company. Our method of curating the right learning tools and processes result in organizational transformation for companies worldwide. Our focus is on the development of Culture, Strategy & Structure. Your organizational development journey starts here.